The 41st Kusatsu International Summer Music Academy & Festival has unfortunately been cancelled due to the worldwide spread of COVID-19. Although the music festival cannot be held, we have received messages from seven of the faculty members who were planning to participate in this year's festival.
We will introduce a message from Prof. Bruno Canino.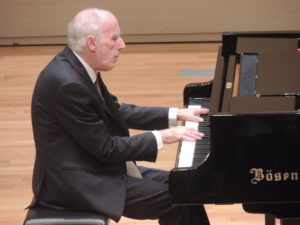 It has been a tough period for everybody in the world, (particularly in my Italy) and especially hard for us musicians. You have been very patient, you know how patience is absolutely necessary to be a pianist; but now we have to be impatient, hoping the time will run very quickly in order to bring us to the Kusatsu Festival 2021.
At the moment, in this difficult moment, I tried to learn pieces I never played, instead of working and reworking my old repertoire. Also for you it could be a good chance of exploring new material: artists, especially young artists, should be curious; stay on the same great composers, but also analyze works you never like them, or you found too difficult or too easy, also don't plan to play only great, famous works, but alternate them with small, precious pieces, from which you can discover new feelings and new sounds. Use well the strange period: and we'll meet again!
Bruno Canino
Piano / Participated 15 times in total since the 14th (1993) Kusatsu International Summer Music Academy & Festival.
Bruno Canino studied piano and composition at the Conservatorio Verdi in Milan where he taught piano for 24 years. Then, for 10 years, he gave a course in piano and chamber music at the Berne Conservatoire. For over 50 years he has been regularly performing with Antonio Ballista, his piano duo partner. He has collaborated with many prominent string players, such as Lynn Harrell, Salvatore Accardo, Viktoria Mullova and Uto Ughi and others and has played with leading orchestras with distinguished conductors such as Claudio Abbado, Riccardo Chailly, Wolfgang Sawallisch and Pierre Boulez.
Please click here for detailed profile.